connecting coaches, athletes, and programs

Rosterspot is the first social platform to integrate recruiting software features college programs urgently need to efficiently scale their recruiting efforts. Build by coaches, for coaches.
FEATURES
Social Networking
Build a social network with a focus on your specific role in the recruiting process. Connect and communicate directly with other coaches and athletes to help drive the recruiting process forward. Post content to your profile to help market yourself or your program for success at the next level!
Program Collaboration
Collaborate with other coaches in your program. Add notes and attach files to athlete profile that ONLY other coaches in your program can see.
Advanced Search Capabilities
Our advanced map searching capabilities allow you to search and filter on the data that matters. Coaches can search and filter for athletes in geographic areas that meet their criteria. Athletes can search for schools that might be a good fit. Save searches and revisit them in the future to view new matches as they come in real-time.
Athletes Management By Boards
Coaches can organize athletes into boards and directly communicate with all members of the board. Share and collaborate on boards with other coaches on your staff.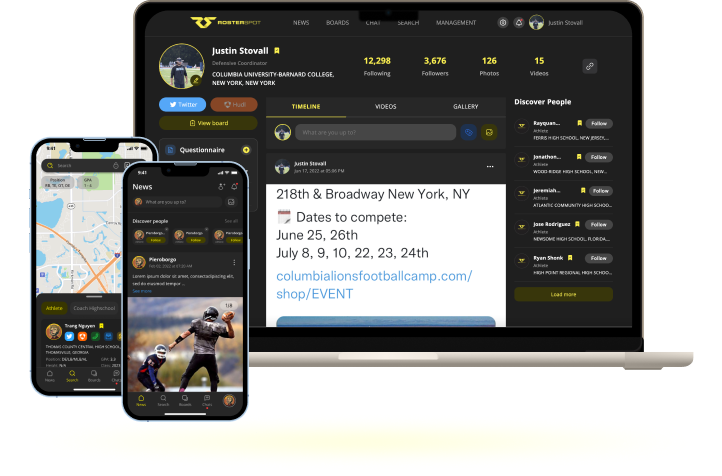 Mobile and web application support so you can easily access your network and recruiting data on the road.
Robust notifications to alert you of activity on your profile, boards, and connections.
A streamlined suite of features to import, manage, and collaborate at a program level on your programs recruiting efforts.